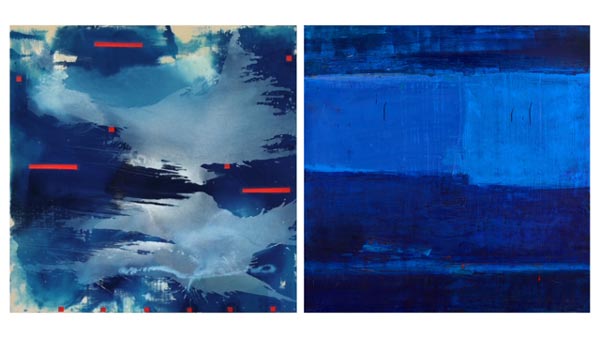 Princeton Arts Council presents 'Talk to Me' abstract paintings by Janet Filomeno and Katherine Parker
NEWS | CHARACTERISTICS | PREVIEWS | EVENTS
originally published: 08/10/2021
(PRINCETON, NJ) — The Princeton Arts Council will exhibit Talk to me, a collection of abstract paintings by longtime friends and collaborators Janet Filomeno and Katherine Parker. The exhibition will be presented from October 16 to November 20, 2021. The public is invited to an opening reception on Saturday, October 16 from 3:00 p.m. to 5:00 p.m.
Janet Filomeno and Katherine Parker met in Hoboken in 1991. They felt an immediate affinity as both were painters of great expressionist works. Each grappled with the challenges of finding a new language to reinvent and personalize the ideas of abstract painting for their generation. A conversation began between the two friends that continued for over 25 years and the two continued to paint and show extensively in the NY/NJ area. The successive studio visits over the years have been an important touchstone for everyone, a way to experiment and share new work, to take up challenges. A voice of trust is paramount during this process.
"When artists are friends, they spend years, even decades, watching each other's work change and grow," Filomeno and Parker share. "They talk together in studios, galleries, museums and cafes, discussing the intersection of life and art. These conversations are so important to artists because studio practice is quiet and sometimes lonely. The shorthand developed over years of conversation can ignite a body of work, deepen a theme, or reinvent an idea that is just beginning to take shape. It is not surprising that such friendships have historically been so important for the development of new ideas and schools of thought.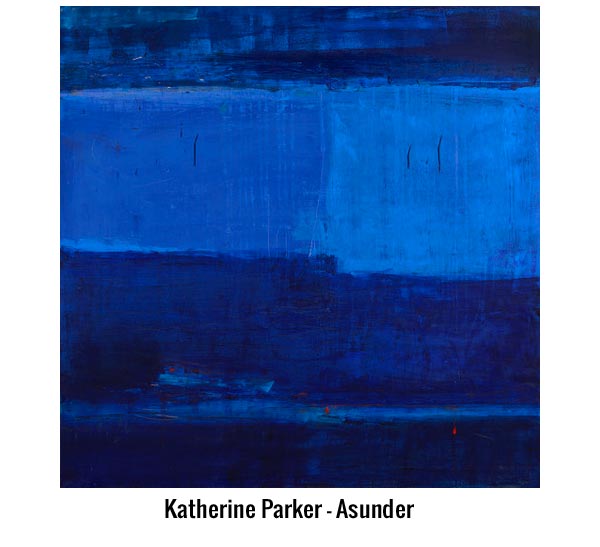 Catherine Parkerit is new works address themes of memory, time and loss. Large painterly pieces are slowly crafted by adding layer upon layer of thin oil paint, the shapes and marks appearing and receding as the finished painting emerges. Parker has exhibited her work at MOMA/PS1, Newark Museum, Jersey City Museum, Spanierman Modern, Heidi Cho Gallery, Accola Littlejohn Gallery and many other venues in NY and NJ. She is the recipient of a Yaddo Fellowship, an Edward Albee Fellowship, and a fellowship from the NJ State Council for the Arts. She has lectured at many museums and universities in the region about her work.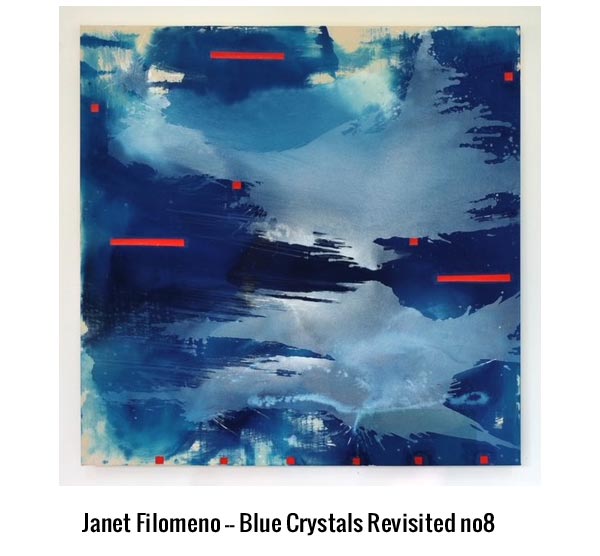 Janet Filomeno is best known for her large-scale gestural abstract paintings that use a variety of materials such as ink, mica, shellac, acrylic paint, graphite, charcoal, paint markers, and sometimes collage. Using her physical action like pouring, throwing and throwing colored liquids onto the stretched canvas on the ground, she is able to recreate the movement that can be felt in oceans, rivers and other bodies of water. It's an intuitive process she follows as she uses the physicality of her body to move/move the canvas in different directions to create a heightened sense of movement as each layer is poured. As various shapes and liquids collide across the canvas, one can feel the reference to water and all of its associations in both physical and metaphorical ways. Bodies of water are an ongoing theme that runs through his many different series. Filomeno searches for visual metaphors and metaphysical connections to form a collective experience of inside and outside.
Advertise with New Jersey Stage for $50-$100 per month, click here for more info
---
Filomeno exhibited nationally and internationally. She has been included in numerous museum exhibits, including the City of Trenton Museum, James A. Michener Museum, Morris Museum, Montclair Museum, and the Hunterdon and Paterson Museums. Internationally, she has exhibited in Japan, China, Korea, Austria and Italy.
In New York, she has exhibited in various galleries, including the JCacciola and the Walter Wickiser Gallery. In addition to her exhibit history, she has taught and lectured at various museums and universities in the tri-state area. She was Adjunct Professor of Art at Montclair State University (age 18) and William Paterson University.
Born in New York, NY, Janet Filomeno lives and works in New Hope, PA. Currently his work is represented by the Walter Wickiser Gallery in New York and Posner Fine Art in Los Angeles, CA. His work is included in various museums, private and public collections.
This exhibition is an opportunity to show new works side by side: paintings rich in history and shared experience, reflecting a dialogue of faith, friendship and the possibilities of abstract painting. Talk to me is a show about the long friendships and conversations between two artists.
Gallery hours: Monday to Thursday, 11 a.m. to 6 p.m.; Friday & Saturday, 11 a.m.-4 p.m. Free and open to the public. The Princeton Arts Council is located at 102 Witherspoon Street in Princeton, New Jersey.
The Princeton Arts Council, a non-profit organization founded in 1967, fulfills its mission of building community through the arts by presenting a wide range of programs including public art projects, exhibitions, performances, free community cultural events and studio classes and workshops. Princeton Arts Council programs are designed to be high quality, engaging, affordable, and accessible to the diverse population of the greater Princeton area.
TOP PHOTO: Works by Janet Filomeno (left) and Katherine Parker (right) side by side