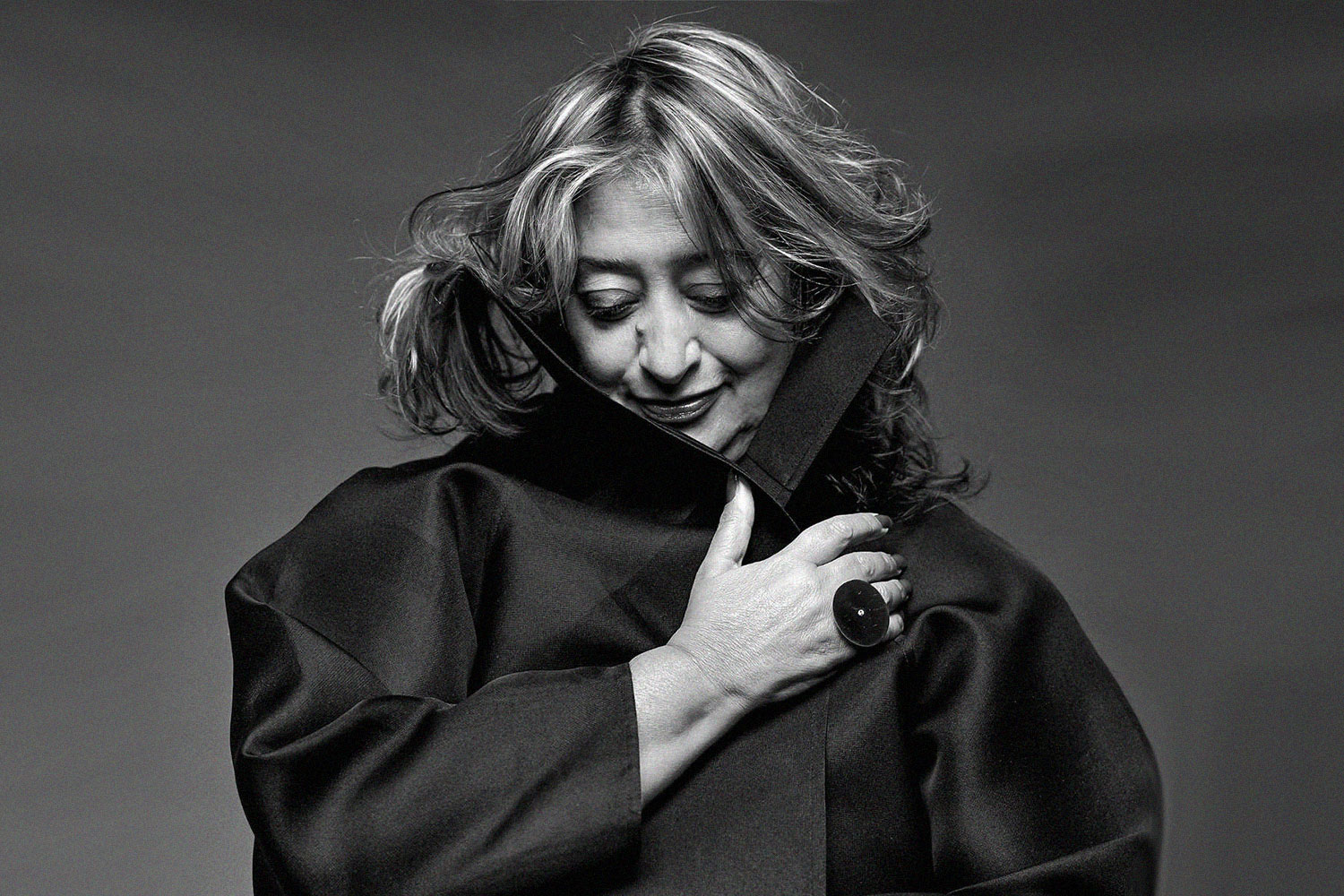 An insight into the architectural form and abstract paintings of Zaha Hadid
Zaha Hadid (October 31, 1950 – March 31, 2016) was a visionary architect, businesswoman and teacher who left behind extraordinary works. She became the first woman to be awarded the Royal Gold Medal by the Royal Institute of British Architects.
Hadid views architecture as an art that deals with human emotional experiences like pleasure, happiness, etc. His design inspiration comes from observing nature, people and the city. In one of his interviews, Hadid said: "People ask 'why are there no straight lines, why no 90 degrees in your work?' This is because life is not made in a grid.
Hadid won 93 awards through 2012; the most important is the Pritzker Prize (2004). Hadid's first global recognition dates back to 1982 with The Peak Leisure Club project in Hong Kong.
Drawing and painting occupy an essential place in Hadid's practice. Hadid became close to Russian supremacist arts in the early 20th century when she studied architecture at the Architectural Association School of Architecture after studying mathematics at the American University of Beirut. His early works were influenced by the Suprematism of Malevich and the Constructivism of Tatlin and Rodchenko. Hadid synthesized Suprematism with the sections, plans and isometries of architectural drawing.
Hadid absorbed many constructivist elements into his architectural aesthetic. The most significant impact on Hadid's art was Kazimir Malevich's free linear dynamic building style; she took geometric elements and the anti-gravitational space of the Russian avant-garde. This succeeded in a new trend called deconstructivism, characterized by antigravity, non-geometry, complexity and fragmentation.
Hadid's early works have been named Dynamic Construction because of the dynamic, fragmentary form and combination of his methods. Dynamic building is the benchmark and creative development of Russian avant-garde Suprematism and constructivism in architecture.
The arts of Suprematism were constructed in time and space to represent a philosophical understanding of the world rather than mere aesthetic considerations. Constructivist practice has freed itself from the frame of the image by using complementary methods.
New York-based architect Lebbeus Wood said of Hadid's architectural practice: "Most architects make drawings. However, Hadid's designs from the 1980s are different in several ways. In particular, she had to create new projection systems to formulate in spatial terms her complex thoughts about architectural forms and the relationships between them.
In 1988, the exhibition "Deconstructivism in Architecture" was held at the Museum of Modern Art (MOMA) in New York, in which seven architects took part; Coop Himmelblau, Peter Eisenmann, Thom Mayne, Daniel Libeskind, Bernard Tschumi, Frank Gehry and Zaha Hadid. Deconstructivism was broadly divided into separate Derridians and non-Derridians.
Non-Derridian architects use a more realistic approach where concepts or ideas are drawn from different sources; Zaha Hadid, Rem Koolhaas and Frank Gehry drew inspiration from Suprematism, Constructivism and nature respectively, developing form into sculptural image and function following form.
Hadid participated in this exhibition with his architectural drawings. This exhibition was one of the critical steps for Hadid to announce his architectural aesthetic to the world. Malevich, Tatlin and Rodchenko strongly influenced these early paintings.
Lebbeus Woods recounted his amazement at Hadid's painting techniques during a visit to his studio in 1984:
"I saw a watercolor that Zaha Hadid was working on, taped to a drawing board. It was a delicate and intricate drawing related to her groundbreaking project for The Peak. As I was drawing, I asked her what brushes she was using… Without a comment, she showed me a cheap "brush" that can be bought at any local hardware store – a piece of gray foam on a stick.I still remember being shocked into the silence. Years later, I understood his choice of tools as characteristic of his approach to architecture: a spin of the extraordinary out of the mundane.
Generally, she used calligraphic methods to visualize her architectural ideas. The drawing was a design tool for Hadid, and abstraction was an investigative framework for visualizing architecture and its connection to the world around us.
On the other hand, technology and innovation have always been at the heart of the work of Zaha Hadid Architects. Hadid used technology in her career but continued to do her drawings by hand. She didn't want her creations to be limited to what computers gave her. She said in an interview: "I don't use the computer. I make sketches quickly, often more than 100 on the same formal research. Painting was an essential part of my early career as a design tool that gave us the opportunity for intense experimentation. Painting was always a critique of what was currently available to us as designers at the time – because 3D design software didn't exist.
Most of Hadid's early work is theoretical, and she used the technique she developed back then to build on these ideas in the future.
In 1992 Zaha Hadid was commissioned to create a collection of paintings and drawings for "The Great Utopia: The Russian and Soviet Avant-Garde, 1915-1932", an exhibition on Russian constructivism at the Guggenheim Museum in New York. This collection contains the 32 ink drawings and 47 acrylic paintings of Zaha Hadid.
Hadid recreates Malevich's "tectonics" as a "curved" form and uses color in a way reminiscent of Theo van Doesburg and members of De Stijl. Also, Hadid was the first architect given the opportunity to design an exhibit at the Guggenheim Museum. She separated the Guggenheim into thematic interventions: Bent Tektonik, Black Room, Globe Room, Maze Room, Porcelain Beams, Skyline of Tektoniks, Suprematist Walls, Tatlin Tower and Zig Zag Wall.
Hadid discussed the influence of artist Kazimir Malevich on his work in an article in the Summer 2014 issue of AR magazine:
"One of the results of my interest in Malevich was my decision to use paint as a design tool. I found the traditional system of architectural drawing to be limiting and sought a new medium of representation. The study of Malevich m made it possible to develop abstraction as a principle of investigation.
At the same time, Hadid completed the "Vitra Fire Station" in Weil am Rhein, Germany, one of the important works of his early career. It is also the first time that Hadid has transformed his vibrant and experimental two-dimensional images into three-dimensional architecture. The building is also notable for the way it points and extends; it seems to extend and elongate the space itself, both on paper and in the facade.
It is not always easy for Hadid to bring her ideas to life, even though she has become an architect known to all of us. Another project where you can see other lines inspired by Malevitch: The Peak in Hong Kong (1983). The idea for the project won the competition but was never realized. The works are composed of deconstructed volumes that have exploded into a series of razor-sharp components that project outward endlessly.
Hadid's bold composition produced a building with a sense of tension and movement. Yet it also serves a practical purpose: its multi-faceted exterior allows for multiple entrances and exits for firefighters and vehicles. This emphasis on fluid movement can be seen from the first paint job to the finished fire station.
We can add a lot to this article about Zaha Hadid's designs, drawings and inspiration for the world of architecture. We remember Hadid's inspiring works on her birthday and the 6th anniversary of her passing.
Learn more about Zaha Hadid Architects 10 remarkable works of Zaha Hadid (ZHA)